14 Airport Restaurants That Are Totally Worth A Layover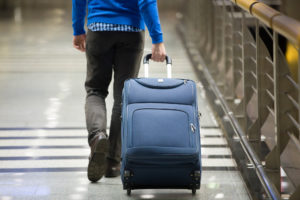 If you've ever been stuck in an airport for a layover, you know how difficult it can be to get a decent meal. Airport food is usually bordering on awful, and – if you have a weak stomach – can turn into the worst part about your trip. We've found 14 airport restaurants that serve delicious fare, and buck this trend. If you've got to endure a layover, schedule one at one of these tasty terminals!
John F. Kennedy International Airport in New York City is the busiest, and hungriest, airport in the country. You can take our CT limo service to the terminal and procure some excellent food. While it's not news that this airport features a Shake Shack – only one of the best burger and milkshake chains in the world! – it's also one of the few that serves breakfast. Yum!
Chicago O'Hare International Airport has great pizza and hot dogs, of course, but what's really making waves is the Tortas Frontera – a locally sourced Mexican sandwich shop that's a favorite of travelers and locals alike.
Miami International Airport has Café Versailles, which is a satellite version of one of Miami's most iconic restaurants. Cuban coffee and signature pastries make this walk-up window a favorite of the jet lagged and fabulous.
Charlotte-Douglas International Airport boasts that Carolina barbecue that can't be rivaled. Brockwood Farms Carolina BBQ is the station you'll find in this small airport, and they've got macaroni and cheese, hush puppies, and other delicious sides, as well.
Phoenix Sky Harbor International Airport has a unique favorite for avid brunchers. Matt's Big Breakfast plates a warm and thick Belgian waffle, and serves the popular Bacon Bloody Mary all day long.
Los Angeles International Airport, of course, has a celebrity chef on staff. At the satellite post of popular LA eatery Ink.sack, Michael Voltaggio's banh mi and fried chicken sandwiches come to life. Airports aren't usually glamorous, but this airport lunch can be!
Dallas Love Field International Airport is a huge hub for Southwest Airlines, and in recent years has really upped its food game. Sky Canyon offers the best of Texas, with brisket, butterscotch pudding, and Frito pie – as well as pre-flight margaritas.
San Francisco International Airport has a Napa Farms Market with all your local favorites, like Cowgirl Creamery cheese and fresh made macarons. If it wasn't in an airport, we'd do all our shopping there!
Atlanta International Airport is home to One Flew South, an upscale twist on Southern foods like pork belly and steak. It's a favorite of locals, which means it's absolutely worth a try!
Denver International Airport brought hippest brunch and lunch spot, Root Down, to the jetset crowd. With its "field to fork" reputation and dishes like short rib tacos, it's a crowded place for a delicious Denver meal.
Boston Logan International Airport is home to the Legal Test Kitchen for Legal Sea Foods. If you fly through the airport often, don't' worry: The menu changes constantly!
Reagan National International Airport in DC is not known for its culinary fare, but one local out post – Ben's Chili Bowl – is a delight for even the most jaded of DC travelers. It's not healthy, but it's historic, and delicious to boot!
Minneapolis-Saint Paul International Airport is home to Ike's Food and Cocktails. Ike's is infamous for its Bloody Marys – the perfect complement to a long layover.
Seattle-Tacoma International Airport has many things to taste, but Ivar's Fish Bar is a fast casual home for the best chowder in the Pacific Northwest.
If you'd like to schedule transportation to JFK or other regional airports to try out the food, let KEE Limousine transport you to culinary airport bliss. Call or contact us online for a consultation today!